Pattaya is overbuilt, yet they keep building.
Construction sites everywhere! It is crazy.
All these buildings: Half-empty!
Many units are unsold!
Never, ever buy a property in Thailand.
The weather is too warm anyway. And the Thais do not even speak English.
And the food? Do you think I eat Thai food?! Way too spicy!
Can I have another beer, please? What time Happy Hour finishes?
Don't we all know them?
The bar-lawyer army. The grumpy & negative keyboard-warriors on social media?
"Property Experts", pur sang?
---
Facts:
They keep building.
Buildings (seem) half empty.
The weather is warm.
Thais speak better English than most of us speak Thai.
Thai food can be spicy.
Happy hour never finishes if you have a smile on your face.
For more than a decade, the property market in Pattaya showed blooming sales.
Mostly condos on resort-style "waterpark" lagoon projects.
Average room size starting from 25ish square meters upwards.
In some developments, a 25-30 square meter room would come as a glamorous-luxurious 1 bedroom unit. To become part of such a "glamorous lifestyle and a desirable and privileged world" you must think of an investment that starts from roughly ฿ 1++ million only [€ 26,000 | $ 32,000 | £ 23,000].
A covered parking lot in central Amsterdam will cost you € 89,000 or nearly ฿ 3.4 million.
(Plus € 150 [฿ 5,700 monthly service fee) – just so you can compare.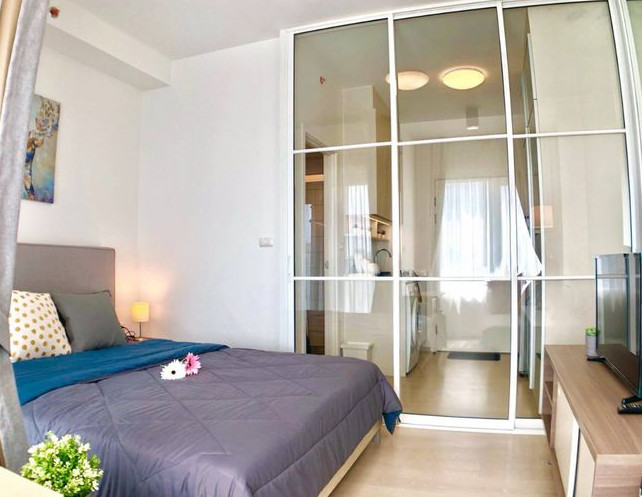 Bigger = Better?
Maybe, but also more expensive.
Higher construction costs lead to higher sales prices.
A logical step to reduce the sales price and herewith increase your audience is to create SMALLER units.
What is small?
An average 5-star hotel room sizes only 32 to 34 square meters, yet, with smart layout designs, they feel much bigger. A standard hotel room in Holiday Inn Express on Soi Buakhao here in Pattaya is 19 square meters. At the new 5-star Marriott Courtyard in Wong Amart, the room size starts from 35 square meters.
When Town & Country Property built The Residence Jomtien condominium (2007), studios were 51 square meters! In today's market that could easily be a 2-bedrooms apartment…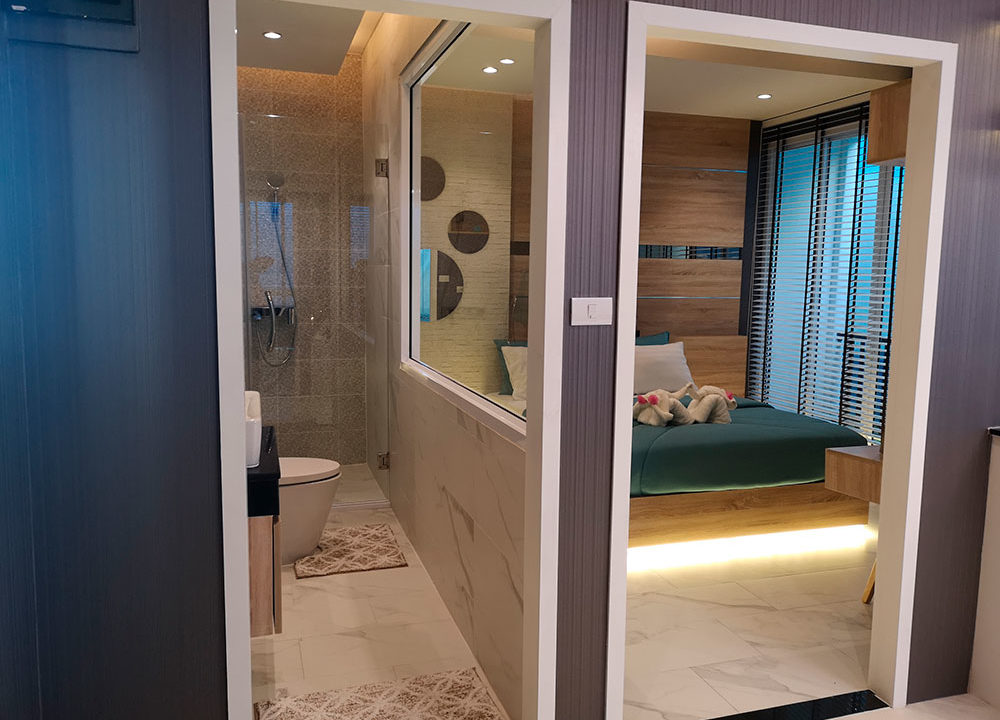 Why selling smaller units at a cheap price?
It is a number game. There are more buyers with 1 million to spend than buyers with 5 million to spend.
But, are those units really cheap?
Let us see, here is a sample.
Chapter One ECO Ratchada – Huaikwang (Bangkok), a condo project with 1844 units sold out, with prices starting at ฿ 2.89 million. Averaging ฿ 120,000 per M2 for units of just 24 square meters.
That is some 30% higher than other condo projects in the same area.
So, from a developer's point of view: Selling small units at an affordable starting price is a very lucrative business. Do the math.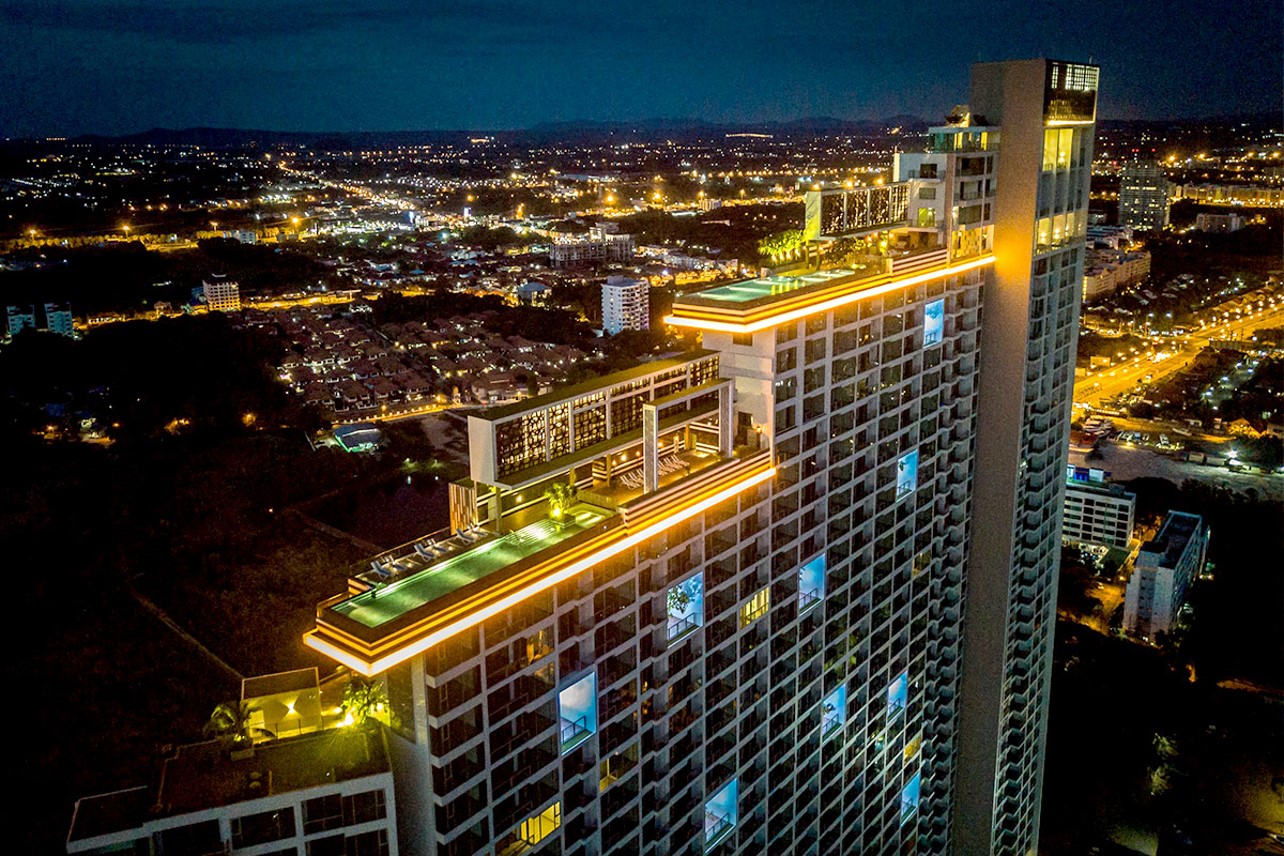 Back to Pattaya.
Who is buying?
Most of the "affordable" mini-apartments (shoeboxes) are sold to buyers with disposable cash:
Foreigners that frequently visit Thailand. The other group of buyers is Thai-starters buying into projects like the ones from LPN and Q-house with attractive bank mortgages in place.
Many units remain empty most of the year, as they were only bought as an "alternative hotel room". Frequent travelers can use their own apartment whenever they are in Thailand. Pure convenience.
So, passing a condo resort-style project at night could result in a huge building with just a few lights switched on. "Living in the dark".
Any concerns with the condo owners?
Not really: Nobody bought a unit as a "buy to let" investment. Only personal use.
Inflation – deflation? No one worries – units were bought with disposable cash, cheaper than a parking lot at home.
And they keep building…
Also true. Mind you: Developers do not tend to build without units being sold.
Construction of a high-rise could easily take 2-3 years to complete.
So, once sufficient sales are achieved and the sales chart is all dotted with "sold stickers", money is in the bank: Construction will commence. Corona Virus or not.
Is there anybody "left in the dark"?
Any more questions? No?
Happy Hour can continue!
---
Author: Mr. KC Cuijpers
For more information: Please contact Town & Country Property – [email protected]