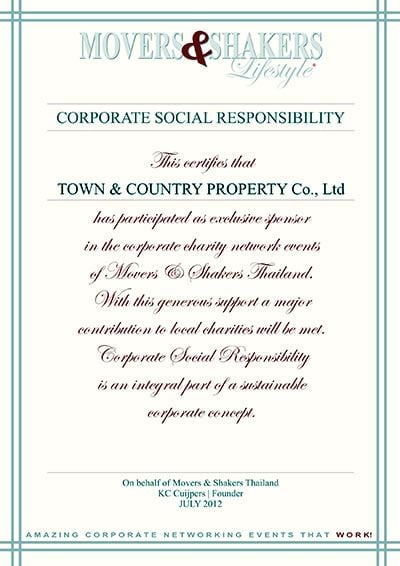 As one of the leading Eastern Seaboard real estate companies, Town Country Property strives to achieve excellence when it comes to operating our business in a socially, ethically, and environmentally responsible manner. The spirit of our ongoing efforts to manage our business as a conscientious member of our community and to improve our performance in this regard.
We place great emphasis on sustainable business. Relations to our staff as well as staff conduct should satisfy the ethical standards and professional expectations that you may expect from any real estate professional. Our staff members can rely on our support for their professional and personal development and education. Furthermore, we pay close attention that the conduct of our business contributes to promoting and sustaining a strong and healthy environment worth living for us and future generations.
Town & Country Property Co., Ltd.'s Corporate Social Responsibility Policy focuses on three essential areas as follows:
Environmental commitment
Town Country Property strives to be an industry leader by adopting progressive environmental standards and practices that demonstrate our commitment to corporate social responsibility. Operating in a business sector that impacts upon the natural and built environment, we are conscious of our responsibilities towards the community and the environment as well as towards our clients and staff. Town Country Property strives to ensure that environmental protection and amenity improvement are key criteria in any of the projects we are engaged in. We consider the impact upon the environment; energy conservation and waste reduction as part of our property strategy.
Diversity
We foster an inclusive environment that values the richness of our differences and reflects the diverse world in which we work. By cultivating a dynamic mix of people and ideas, we enrich our service capabilities and the communities in which we operate. Town Country Property dares to be different and innovative.
Community and Society commitment
Our social commitment reflects Town Country Property's recognition of the importance of ensuring the health and welfare of our employees and customers as well the value of actively investing in our community and participating in philanthropic activities.
Town Country Property not only supports charitable events directly, but we also encourage employees to volunteer their energies and abilities directly to charitable organizations. Where possible we encourage and facilitate employee donations, of both their time and money. Hence; Mr. Cees KC Cuijpers (Managing Partner of Town Country Property) fulfills a central role in various activities which improve the health and welfare of the local community.
(Article Bangkok Post May 2012: http://www.bangkokpost.com/print/291570/)
Lighthouse Club Pattaya
The Lighthouse Club Pattaya (LHC) is part of an international organization that raises funds for families of construction workers who are in financial distress as well as creating opportunities for the children through providing safe establishments for day-care and learning.
Cees (KC) Cuijpers, MD-partner of T&C was Chairman of the LHC Pattaya from 2009 through 2011. In this capacity, Cees built up an extensive following of local business people who came together for a charity networking evening on a monthly basis to raise funds for charity. Each month 200-300+ people gathered at an upmarket venue to enjoy the benefits of networking whilst enjoying good food & live entertainment. The results; hundreds of thousands of Thai Baht are raised for charity.
Movers & Shakers Charity
www.facebook.com/MoversShakersPattaya
www.facebook.com/MoversShakersBangkok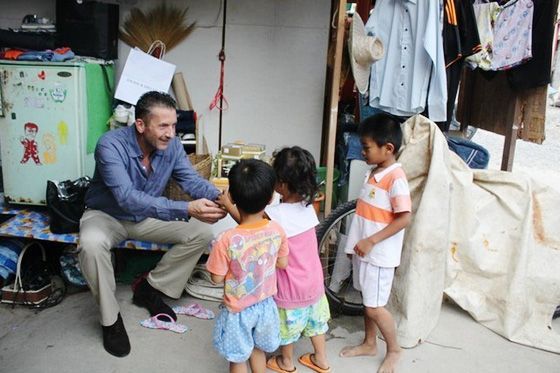 In 2009 Cees (KC) Cuijpers founded Movers & Shakers. An initiative to host an annual corporate GALA event on the Eastern Seaboard (ESB) of Thailand.
From its very first function; Movers & Shakers was a thrilling success as it immediately became the biggest corporate network of its kind on the ESB.
The Eastern Seaboard and Bangkok are getting closer and closer. Bangkokian's are the largest demographic making condo purchases in Pattaya and more and more businesses in Pattaya and Bangkok are crossing over into each other's territory, so it just makes good sense to recreate the success of Pattaya's networking events in Bangkok.
Cees Cuijpers has with Movers & Shakers Networking Charity organized a monthly event at Bangkok's top luxury hotels that are quickly emulating the success in Pattaya. All proceeds go to charity.
Movers & Shakers and the monthly Lighthouse club events have become the biggest networking events on the Eastern Seaboard. If not in Thailand.
To date, over 4 Million Thai Baht was raised for charity.