Thailand is Asia's primary travel destination and offers a host of places to visit. There are many wonderful places in Thailand that are the reasons; more than sixteen million people visit Thailand each year. There are many beautiful Thai islands as well as other type of travel destinations such as Bangkok, Chiang Mai and phuket. Tourism has been just one factor in the country's development. Thailand boasted the fastest-expanding economy in the world. Politics in Thailand has not been able to keep pace.
Some 85 percent of the population is still practicing Theravada Buddhists, a unifying faith that colors all aspects of daily life. You should spend your holidays by staying at one of the most popular Thai travel places such as Phuket, Pattaya, Hua Hin or Koh Samui. Thailand offers so many benefits and facilities to all travelers which is why Thailand is such as ideal tourist destination. If you need help in deciding where in Thailand you should spend your vacation then be sure to consider the following 5 most popular travel destinations in Thailand.
Bangkok: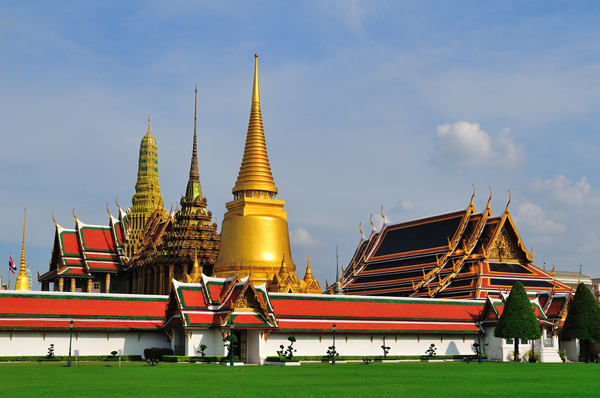 Bangkok is the capital city of Thailand and of the most visited city of Thailand by the tourists. But Bangkok has not a good reputation because of air pollution and due to bad traffic. Bangkok is very good place where every traveler should spend few days during their vacation in Thailand. Bangkok has many places to visit such as Buddhist temples, different shopping malls and unique activities such as the floating market.
Phuket:
Phuket is one of the most visited travel destinations in Thailand. This famous island is the largest island in Thailand and it has many attractive places to offer its visitors. The beaches on Phuket are the most beautiful beaches in Thailand and in Phuket, many beautiful beach resorts from which travelers can select. Many travelers choose to visit Phuket on vacation because of the world famous Phuket nightlife and the many great Phuket bars. Some other popular tourist attractions on Phuket include the Phuket Fantasea Show, the Simon Cabaret Show and of course a number of world class golf courses.
Pattaya:
Pattaya is the beach resort area which is very near to Bangkok that's why many local Bangkok residents visit Pattaya during weekends. The beach in Pattaya is not good enough as the beaches in Phuket and Samui. The beach is not only reason that Pattaya is one of the most popular travel destinations in Thailand.
Samui:
Samui is a very beautiful island which is located at the east of Thailand. The beaches on Samui are more beautiful than the beaches on Phuket. The most popular Samui beaches are all located on the east of Koh Samui and are Chaweng beach, Lamai beach and Big Buddha beach. Both Thai Airways and Bangkok Airways offer several daily flights from Bangkok to Samui.
Chiang Mai:
Chiang Mai is located in the mountains in the North of Thailand. Chiang Mai is a great place for the people who want to know about Thai culture and the cultures of the hill tribes. If you enjoy the nature then Chiang Mai is a great choice as there are various great attractions in and around Chiang Mai such as trekking, rafting, elephant riding and visits to the nearby hill tribes.