Surprised?
Money talks everywhere, isn't it?
Town & Country Property is one of the leading real estate agencies in Pattaya.
Since 2003 we are active on the Eastern Seaboard and dealt with hundreds of, mainly foreign, clients.
The fact that our client base merely consists of foreign investors is simply explained because it is not in the nature of most Thais to work with an agent.
Even though this agent is a seasoned property expert and able to offer great benefits to every one of their clients. It is not part of a Thai's DNA to use the services of a "middleman", as they fear it is going to cost them more… Oh well…
So, what makes "Money Talk" in Pattaya?
Let us have a look at Thailand in general before we focus on Pattaya.
Why is Thailand a top choice among real estate investors worldwide?
In central Asia, Thailand is the only country that has never been colonized.
It reaps huge rewards from its strategic placement on the map.
Metropolitan Bangkok city is barely an hour-long flight from four rapidly growing frontier markets. Namely Vietnam, Cambodia, Laos, and Myanmar.
These countries are among the world's fastest-growing and allow Thailand easy access to cheap labor along with nearly 200 million consumers. Thailand itself has a large population of near 70 million with a strong rising middle class.
Strong areas of growth are to be found in Thai export goods. Not only on the shelves in supermarkets across Asia's frontier markets but also inside your PC (think of hard drives and memory).
Steady growth transformed Thailand into one of Asia's most dynamic countries.
This attracts foreign investments from all over the world.
The property market in Thailand ranks as one of Asia's most popular among foreign investors, if not THE most popular.
Where does the money go?

Of course, Bangkok, a city of more than 16 million people, and the largest city in Indochina.
If anything happens or business, economic, or political importance, it goes through Bangkok.
The real estate market in Bangkok is stable, yet it is so large that several of its neighborhoods have their own "sub-markets".
Each with its own norms, occupancy rates, prices, and outlook.
However, if life in the capital is not your thing, the smaller cities, such as Nonthaburi or Chiang Mai, are quite significantly smaller while still having the amenities to draw in an expat crowd.
Furthermore, we have destinations like Hua Hin and Phuket or any of the islands like Samui or Koh Chang, but most of these have off-seasons and are often plagued by low occupancy rates. They lack the "staying power" of Bangkok which has multinational companies and a steady flow of well-paid expats.
And then, there is Pattaya!
Property-playground Pattaya has been our professional focus since 2003.
Town & Country Property has been dealing with foreign investors here in Pattaya for nearly 20 years now. Pattaya, as being one of the bigger cities in Thailand, has always attracted many foreign buyers.
Being right next to the ocean and with property prices much lower than Bangkok, many prefer to live and invest in Pattaya. Pattaya-Jomtien became one of the favorite spots for retirees and young investors who struggle with expensive property prices at home.
In past years, the Pattaya property market relied heavily on tourism and foreign capital.
The property market with affordable condos and houses for sale has always been backed by foreign capital from Westerners, China, Russia, Japan…
And we see them come and go…
Like a few years back when the secondary market was hit hard as many Russians pulled out from the market due to a weakened Ruble.
The strange and almost unpredictable mechanism of the currency exchange market reaps unparalleled benefits for some. One's downfall raises other's infinite heights…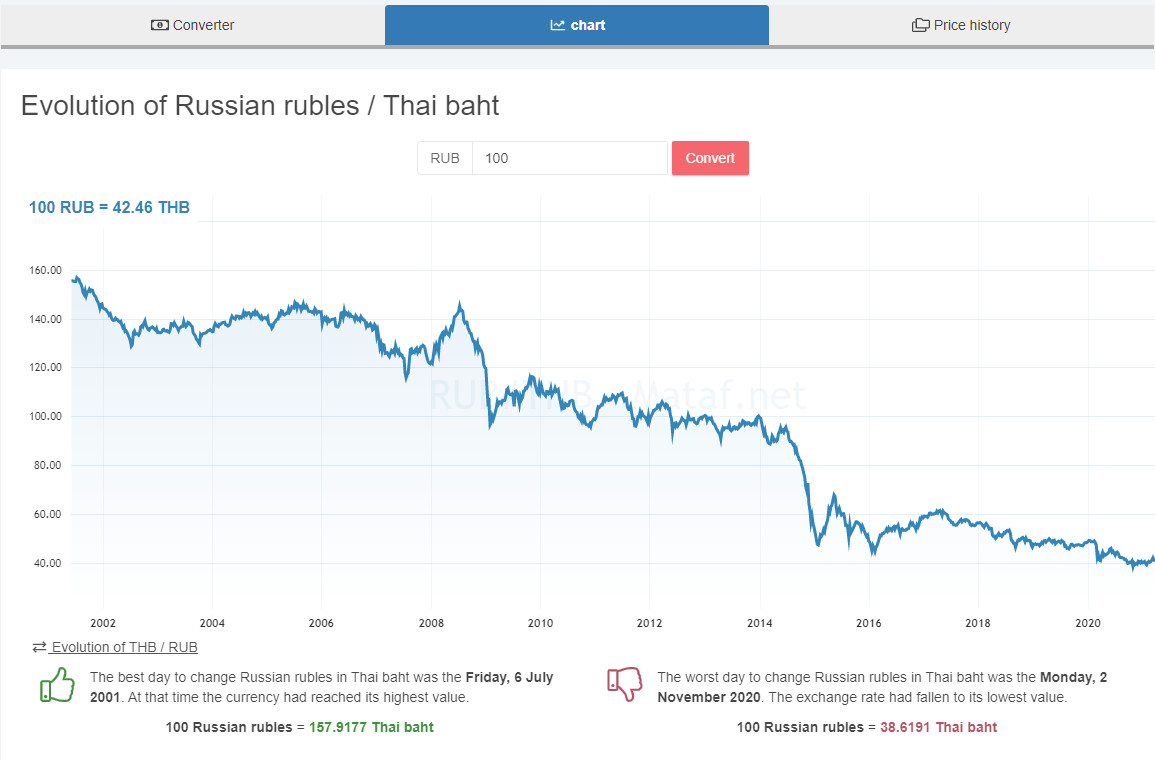 We are known, as one of the most reputable property brokers in Pattaya, for our ability to deliver amazing deals to our clients. Taking advantage of currency fluctuations, we often satisfy both parties concluding our property deals.
SAMPLE
"GBP Client" bought a THB 10 million property at a currency exchange rate of THB 75 to GBP 1 and paid GBP 135,000 for it.
Years later he sold it at only THB 7 million. (Exchange rate: THB 36 to GBP 1)
Conversion: GBP 195,000 (profit GBP 60,000).
Everyone is happy.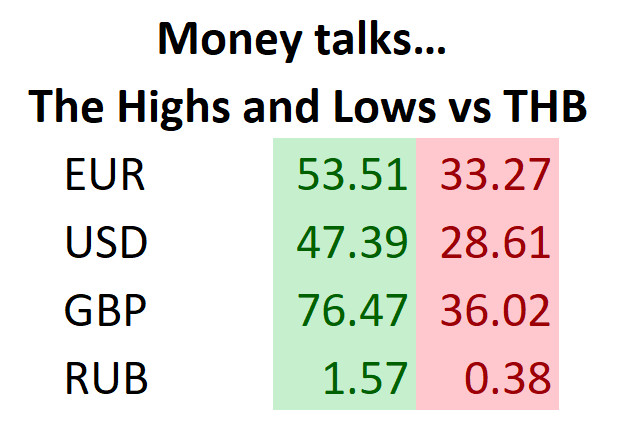 In the Pattaya melting pot of different nationalities, there are good deals to be made.
Property, in general, might not have the best capital appreciation prospects in Asia (we believe this title belongs to Cambodia). However, the real estate market has proven very resilient over the past ten years or so. Interesting times ahead in Thailand's future.
Its economy boasts a long history of bouncing back and reinventing itself.
This was true during times much more uncertain than now.
The strong Thai Baht currency fluctuated even less than established currencies such as the Singapore dollar or Japanese yen in the past decade. But, as it always goes: The market goes up and down, with deals in sight either way.
If you want your "money to talk" in Pattaya and you are comfortable investigating property investments: Consult with the experts of Town & Country Property real estate.
We have been doing it for years.