Pattaya-city is located in the province of Chonburi, with its capital city Chonburi.
Chonburi is one of four Eastern provinces, that make up the Eastern Seaboard, which is a hub for huge industrial estates that offer plenty of expat employment opportunities.
Its population is estimated at some 1.6/1.7 million and Chonburi province covers an area of 4,363 km2.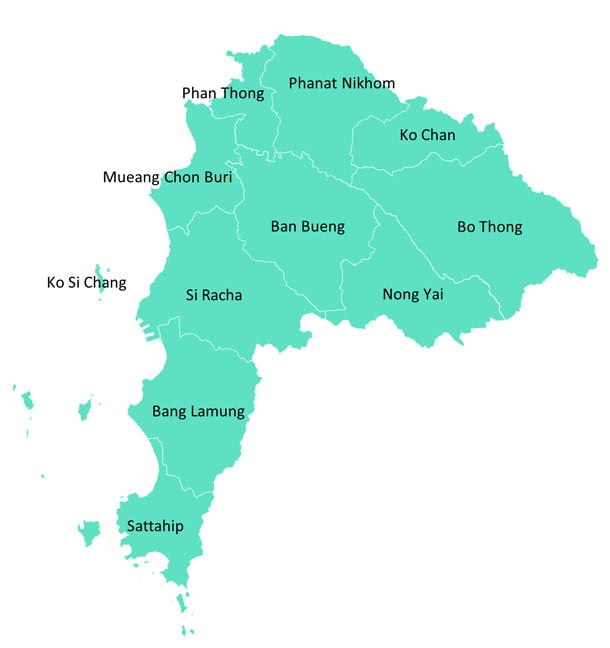 Thailand's population is some estimated 70 million, of whom about three million are foreigners living here long-term.
The most popular destinations for foreigners living in Thailand are Bangkok, Pattaya, Phuket, Koh Samui, and Chiang Mai.
You would expect the capital city of the province of Chonburi to be the biggest as well.
It is not. And it is not Pattaya either. It is Chaophraya Surasak with an estimated population of 145,000.
Every heard of Chaophraya Surasak? Me neither. Previously established as a sanitary district, and "upgraded" to a city municipality in 2013.  Covering a whole region around Sriracha.
According to the provincial authorities that is.
Their estimated logged population of Pattaya-city counts some 125,000.

Quite a different number is estimated by the National Statistics Office.
Probably more realistic if we look at the large numbers of casual Thai workers who work in the city yet remain registered in their hometowns. Migrant workers from neighboring nations and many long-term expatriates who reside in the city as retirees or self-employed or contracted are traditionally not counted. We come to a more realistic count of some 500,000.
That's a similar number as Antwerp (Belgium) or Manchester (UK).
So, Pattaya is quite a big city. The biggest in the region.
How are living standards in the Chonburi province?
Mostly very local. The city of Chonburi is 45 minutes from Bangkok, which you would expect it to make it a kind of suburb of Bangkok city. Yet, it is not.
The enormous industrial estates of Amata City and Amata Nakorn (with near 700 factories and a workforce in excess of 200,000 mainly Thais) make the approach of the city very "industrialized". Not a pleasant sight.




Throughout the region, you will find housing projects by (local-) Thai developers like Supalai Group or Pruksa Group. Nothing fancy there. Condo projects are often low-rise or occasionally massive, like in Chonburi city the Lumpini Condo Town project with 4,181 small units over 19 buildings. It is often here where you find a small foreign community, mostly schoolteachers living in a cheap rental condo.


In general home and condo prices are quite affordable – but there is not much choice.
Certainly not in the range of luxury properties. Of course, you will find more exclusive and upmarket properties. But these are privately and remotely built dwellings. On some of the golf courses, like Burapha Golf & Resort you will find some nice luxury homes, but high-end projects are simply not there.
All communities, including schools and shopping facilities, are very local and in fact great if you want to integrate with Thai society.


What about nice beaches and nightlife?
Chonburi doesn't have a nice beach. The closest option can be found in Bang Saen, which is an hour's drive from Bangkok and so, quite favorable by Bangkokians.
Nightlife, apart from some local karaoke bars and an occasional Thai disco, cannot be found in the province. In fact, there is not much to do. Which is nice for some people that enjoy their privacy and are willing to adapt to local standards.
With alternative options in the region, like Sriracha, Laem Chabang, Baan chang, or Sattahip, you would think there is an abundance of choice?
Well, let us narrow down this choice:
(1) You want to live in a town where you will find yourself frequently stared at as one of few foreigners, or
(2) You want to live in a tolerant community with the best of both worlds, able to immerse in a unique Thai culture with access to more than enough things to do.
Most people chose the 2nd option.
Pattaya, once a sleepy fishing village, has become a thriving expat community, retirement 'village', and tourist destination.
Thailand's most popular destination is also a popular beach getaway for Bangkok residents.
Pattaya has matured over the years and continues to develop at a fast rate.
Living in Pattaya is favored for that reason. Much different than any other city in the province of Chonburi, Pattaya is a true melt-pot of different nationalities, each with their own motivation to reside in Pattaya.
Many expat families, working on any of the industrial estates, have chosen Pattaya because there are excellent facilities (schools, shopping, hospitals, etc.) that meet international standards.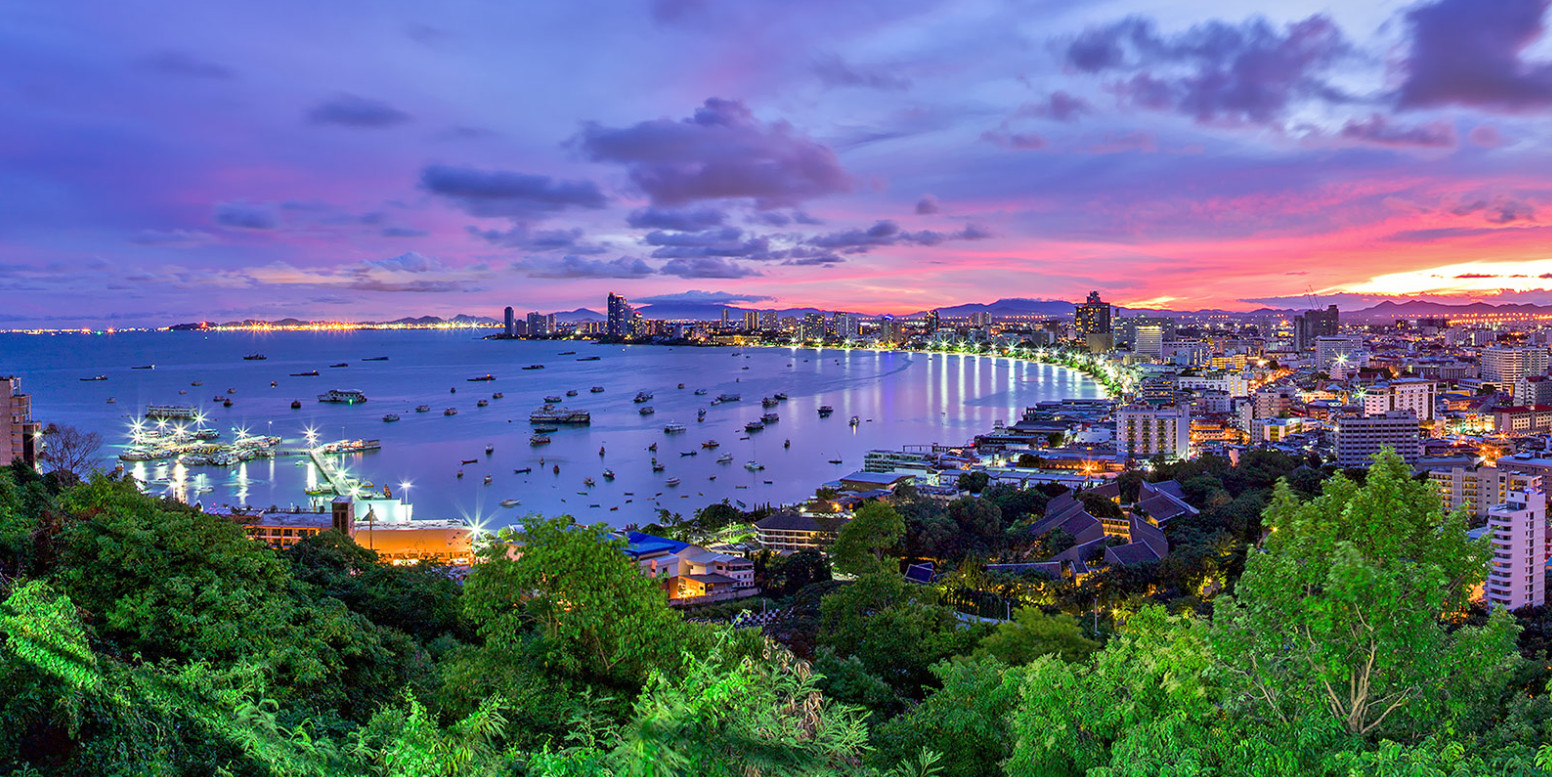 Other members of the expat community are retired here, married with a Thai spouse, run a business in Thailand, or just frequently visit Pattaya and have bought a property for the convenience of it.
And talking property: There is a great variety in Pattaya of attractive homes and condos for sale and rent.
From real luxury estates to modest and affordable homes in gated communities. Lagoon-style condo resorts, high-rise skyscrapers on the oceanfront. Any budget – any style.
Costs of living in comparison with destinations like Samui, Phuket, or Bangkok are also very reasonable in Pattaya. Of course, if you want to blow some pennies around and live a lavish lifestyle, you are more than welcome to do so. Basically, anything is possible in Pattaya.
Where to live in Pattaya?
The city is not very big, yet offers a lot of diversity.
A luxury condo on the Oceanfront, or perhaps a city apartment, or do you prefer a nice home?
You can buy, but there are also very attractive rental homes and condos available.
Ideal for those that want to get their feet wet to start with.
Which region/area of Pattaya would suit you best?
Up north in the upmarket Wong Amart area, Central Pattaya amidst the busyness of town, South Pattaya, or maybe Jomtien Beach? By far the best selection of homes and villas for sale or rent you will find in East Pattaya and Mabprachan Lake.
To make things easier for you we created this roads map and district guide:
https://towncountryproperty.com/district-guide/.
Each Pattaya district is "up close and personal".
Of course, here at Town & Country Property, we welcome you to further discuss your options.
Author: Mr. KC Cuijpers
For more information: Please contact Town & Country Property – [email protected]