Life is good…on Jomtien Beach!
After some 14 years servicing our TOWN & COUNTRY property clients from our real-estate office located on Pattaya-Tai road; our company now moved to a brand-new loft-style office at Jomtien Complex Condotel!
We called it the PROPERTY FACTORY as the interiors are inspired by American-style workshops; High ceilings; exposed electrical fittings and air-cons; warehouse lights and more.
Some people passing-by (while renovating works were still in progress) wondered whether it was going to be a wine-bar or restaurant. Guess that's a compliment for any new 'cool office space'.
Jomtien beach is on walking distance and ample car-parking is available on-site.
A great variety of local shops, restaurants and markets nearby, make our new property factory also a great place to work for our dedicated real-estate professionals and agents.
If you are looking for a Jomtien house or condo for sale or for rent; perhaps a nice piece of (beach-front) land in or around Jomtien Beach – please pay us a visit or contact us. Of course for any other property investment for personal use or other, in or around Pattaya – we are there to advice and help you.
From our new Jomtien real-estate office we have a team of (International-) advisors operating the Pattaya and Jomtien property market since many years. All are very happy with the new Property Factory where people care and places matter!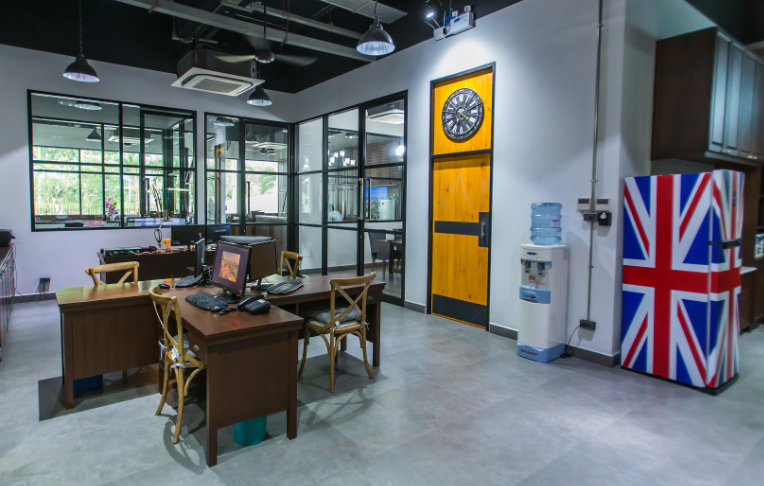 Happiness at work is important but of course our clients that are looking for a beautiful villa or stunning Jomtien apartment, penthouse or studio for investment or personal use – deserve the best.
The best in convenience; comfort; efficiency and hospitality.
When you design and build from scratch, as we did, you can create the ideal space for work.
An office that goes beyond work-life balance; no longer focus only on providing space to work; we created a place that enable peoples to achieve their ambitions. Motivation to succeed.
This reflects on our professional approach towards our (investor-) clients that are looking for a perfect property-match that meets their requirements!
Author: Mr. KC Cuijpers
For more information: Please contact Town & Country Property – [email protected]
People who care. Places that matter.